A Message From Our President
October 14, 2007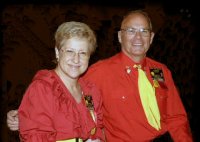 Dear Happy Time Squares: Vic Perry & the rest of the Happy Time Squares initiated our "permanent" venue at the "Campus West" of the First United Methodist Church. Many noted how superb Vic's audio was at the facility, as it is simply the best that we have enjoyed at ANY dance ever attended!! The accoustics alone would have jetted Vic into rock stardom, had he had it back in his early "rock band" days!! Ha! Seriously, the facility's accoustics alone, is going to become legend.

Judy Broers provided excellent Line Dancing and announced her pending line dance Lessons. Parties can obtain enrollment sheets at HTS' website: www.HappyTimeSquares.com. Vernon Nelson kept the Round Dancers busy with rounds' cuing.

We had a total of 89 sign in for the dance: there were 32 guests and 57 Happy Time Square members, including Keith and Carol Noe, Meaghan Tate, & Jim Brittain from HTS' Lawrence New Dancer Sessions, and Jim and Diane Niehoff, of the Ottawa New Dancer Sessions. The visiting clubs were Blue Stem Swingers, Swingin' Singles, Top-Kan Twirlers, Lone Wranglers (who marched & retrieved their travel banner), Ottawa Promenaders, Shawnee Swingers, Swinging Squares, Sunflower Squares, & the Kuntry Kuzzins.

Very unique and wonderfully "Crazy Hats" were abundant. Female winner of the crazy hat prize was Toni Nelson, who literally converted a lamp shade into a very cute hat which promoted the area colleges. Male winner was Jim Roy, who wore a construction hard hat which had a dozen large long-stemmed pink roses "sprouting" from the hat -- the judges all decided that his was best as "only a real man could wear pink roses" that well.

The HTS Decoration Committee "out-did" itself with a profuse display of hats of many kinds, which decorated the stage. Thanks to Mary K Page for sharing her private stock of 32 hats, and Bob & Beth Shipp displayed lots of their hats. Rosalee Rainbolt and Toni Nelson loaned their hats and coordinated the effort.

Folks signed up to help Ivey & Don Harris for cash handling at the 57th National Convention, and other folks signed up to help Jerry & Janet Rediker of Emporia, who will manage Registration Packets. If you were not at the dance and wish to help either the Harrises or the Redikers, please contact the Harrises at 913-707-7017 or email Ivey. Janet Rediker is at 620-343-2859 or email Janet. This is for your specific time committment, though many have already "volunteered".

Stan Zaremba left the building before the "Boots, Bows, & Barbecue Sauce" Awards presentation last month. Stan was singularly awarded his bottle of BBQ sauce, with commendation for originally suggesting the barbecue, providing the equipment to barbecue, and then cooking all of the wonderful pork loin.
Please mark your October & November Calendar with the following HTS Travel Dances:
Saturday, October 20 Riverbend Promenaders, Atchison, KS. Dance: 7:30 PM.
Saturday, October 27 Docey Dandies, Gardner, KS. Dance: 8:00 PM.
Tuesday, Nov 6 Shawnee Swingin' Singles "Thanksgiving" Meal: 6:00 and Dance: 7:30. Meal is $5 + dance is $4, and will be turkey or ham.
Saturday, Nov 24 Top-Kan Twirlers, Croco at Topeka. Dance: 7:30 PM.
Remember the optional Fun Dance to the Wheathearts' Octoberfest Meal-Fund Raiser at Croco, Topeka, Friday, Oct 26th, with the Meal: 6:00 PM and Dance: 7:30.
A second fun dance is "Hog Roast" fund-raiser Saturday, Nov 17, at the Ottawa Promenaders, Ottawa, with the Meal: 6:00 PM and dance following.
-- Lloyd & Connie "Square Dancing WAS FUN At Our New Venue!!"
PS Pam Young, the Rounds Cuer from Topeka, is in charge of the 2008 Wichita National Convention's "Sew & Save". She has requested raffle items (craft or purchased items, baskets, etc.). If you are able to help her in this way, please contact her at email Pam, 785-286-3785 or 3311 NW Hickory Ridge Lane, Topeka, KS 66618-2724.